Steelwater Gun Safe Reviews
Steelwater is among the top manufacturer of gun safes in the American market and this Steelwater gun safe reviews article would discuss the features of its different gun safes.
The gun safes manufactured by this company are known for their their toughness, durability, reliability and fire resistance.
Before you start reading this review. Take a look at the video below.This video is also helpful for people who think if steelwater safes are any good.
This man lost everything in a robbery. Now he uses a Steelwater gun safe to start over.
With a lot of other large players in the market, Steelwater has maintained its reputation through the quality of its gun safes.
In this Steelwater gun safe review, we will take a look at the three most popular Steelwater gun safes in the market.
We will discuss their features and see some real customer reviews for credible facts.
Steelwater is primarily famous for manufacturing heavy duty fireproof gun safes. Here we will take a look at the 16 gun, 20 gun, 22 gun and 39 steelwater safe.
The main fear people have regarding their firearms is burglary and fire when they are away.
Steelwater gun safes stand among the most reliable safes in the market which address these issues perfectly.
All the gun safes mentioned in this Steelwater gun safe review are fire proof and have cleared the standards of the California Department of Justice(some safes here even exceed them).
So here we begin with Steelwater gun safe reviews.
Steelwater Heavy Duty 16 Long gun Safe
This is a fireproof gun safe. And yes, it has been tested for fire protection
according to the standards.
The safe is 45 minutes fire rated at 1550 Fahrenheit, which means it can withstand temperatures of 1550 Fahrenheit(843.33 degree Celsius).
It has a maximum capacity of 16 long guns(after removing the 4 adjustable shelves) and houses an average of 8-10 guns along with ammo and other valuables.
Manufactured with 12 gauge steel it has a five inches(approx.) thick door and 9 solid steel locking bolts which are used to bolt it down with a wall.
The safe is equipped with a gear driven lock and bolt system, which means that it is resistant to pry bar attacks, punch attacks. For protection from drilling attacks, a drill hard plate has also been installed.
Company provides a FREE dehumidifier, and a free dry pack with 200 gram rechargeable silica gel with this safe.
The digital keypad lock is programmable and can store passwords 3-8 numbers long. This is a nice benefit as you do not have to carry a key always.
An emergency bypass key is also included in the package in case you forget the password.
The shipping for this product is entirely free however you will have to call in assemblers and bear the installation charges after delivery. But that's all fine when you are getting a free shipping deal and a discounted price.
The customer support team of steelwater is fabulous and gets all the doubts cleared providing all the possible assistance.
It also has a lifetime burglary and fire protection warranty and a one year warranty against manufacturing defects.
Here is what a customer has to say:
Best safe I ever bought highly recommended to any one just remember to read the info on the safe on the delivery and also moving it into your house because it is heavy but very well built there is not a chance any one is getting in it at all.
BUY NOW ON AMAZON AT 47% DISCOUNT
Steelwater Heavy Duty 20 gun Safe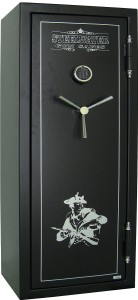 An upgraded version of the above mentioned safe, it has a larger internal space and can house a maximum of 20 long guns in it.
It weighs 425 pounds and is 45 minute fire rated at 1550 degrees Fahrenheit.
The keypad lock embedded in it is EMP proof. Moreover, a bypass key is also provided in the package so you are never locked out of your safe.
The hinges in this safe are exposed but that isn't a problem because even if the hinges are removed there are 9 pins inside which prevent the door from being removed.
Interior of the safe is completely adjustable and all the shelves can be removed to attain maximum capacity.
View more images of this safe.
The safe has been designed to rest all its weight on the floor so bolting it to the wall is not recommended.
Shipping on this safe is free and warranties are the same as 16 gun safe variant.
Here is a customer's review:
I'd love my safe, its awesome, you can open it in 2 seconds and closed it in one. id don't think you can get anything better than these, its amazing. and id used it for all, jewelry cash and hardware, in an out in a flash. if you're looking for a safe look no further, you hit the one you need and deserve.
Steelwater Extreme Duty 22 Gun Safe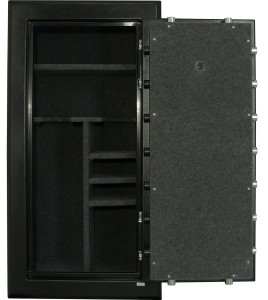 A heavier and upgraded version of the steelwater gun safe series. This safe weighs a staggering 772 pounds.
It offers 2 hours(120 minutes) of fire protection at 1875 degrees Fahrenheit(1023 degree Celsius). This is somewhat close to the melting point of steel. These numbers describe the durability of this safe.
It can hold 22 guns at its maximum capacity and 14-18 guns at an average. It also exceeds the testing standards of California Department of Justice.
The Steelwater 22 gun safe has a heat expandable door seal which seals out smoke and water in the event of a fire.
Due to its larger size and components, this safe has more resistance to push, drill and pry bar attacks than its smaller variants.
A free dehumidifier kit is also included in the package. The delivery is free and more shipping options can be discovered after calling the customer service.
The best feature of this safe is the two hour fire protection that is offered at a minimal increase in price than its smaller variants.
Here's a customer review:
This safe, in my humble opinion, is the only true value on the market. Yes, built in China, but overseen by Americans. Each safe totally inspected in US prior to shipment to a customer. And someone always answers the phone if you need to call them. They seem to stand 100% behind there products.
BUY NOW ON AMAZON AT 44% DISCOUNT
Here's one more customer testimonial video to get you going.
Steelwater extreme duty 39 Gun Safe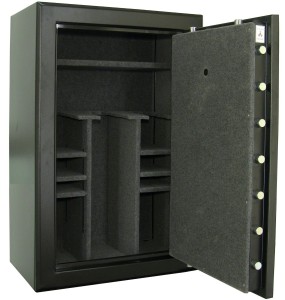 Complimented with three 110 volt a/c plugs and 2 USB the power supply and other electrical items for the safe can be powered easily.
The steelwater 39 gun safe has an average storage capacity of 30-33 guns along with other valuables and ammo.
This safe has been tested for 120 minutes(2 hours) of fire protection at 1875 degree Fahrenheit. Embedded with a 8x locker hard plate, the safe provides protection against prying and drilling attacks.
View More Images of this safe.
The remaining features of this safe are almost same as its smaller variants other than its combination lock. It includes the free shipping and warranty policy.
Here is a customer review:
great safe top quality
BUY NOW ON AMAZON AT 45% DISCOUNT
These are the Steelwater gun safe reviews which would help you in choosing one for your firearms. You can also check out our best large gun safe article to find out the best large gun safes and the problems with steelwater gun safes.
FAQ
What to do if the Steelwater Gun Safe Keypad is Not Working?
It may be due to dead batteries so try replacing them. Perhaps some moisture has seeped or there are some wiring issues. Give steelwater gun safe customer care a call at +1-866-278-8022
Are Steelwater Safes Good?
Yes. Steelwater is one of the best safe manufacturers out there. Their customer support is impressive and the safes are sturdy. However, there are better options like Liberty safes, but they also cost a bit more.
Where are Steelwater Gun Safes Made?
The parts are mostly manufactured in China. However, the company is American with good customer support and service network.
P.S: All the products mentioned in the Steelwater gun safe reviews article have been thoroughly researched and have been ranked and placed here based upon the best customer reviews.