Stack On 22 Gun Safe with electronic lock
The Stack On SS-22-MB-E is a gun safe with a maximum holding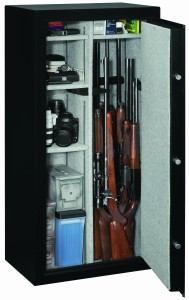 capacity for 22 long guns at once. Undoubtedly the best safe in the 22 gun section, this safe complies to the brand name associated with it.
This stack on gun safe is the best bet for money in this price range. Although you can also go for some higher priced and upgraded gun safes if you have some more money to spare.
THE INTERIOR
The SS-22 is called convertible because it has 4 shelves inside it which can be adjusted or removed to change the storage capacity. The interior of the gun safe is carpeted to prevent your valuables from scratches or damage.
It can hold rifles and shotguns up to 54 inches tall. After removing all the shelves, and the rifles stacked sided by side the safe can hold maximum 22 rifles in it.
Ample space has been provided to set up dehumidifiers and LED lights.
THE EXTERIOR
Black epoxy paint finish with chrome accents and silk screen on the door.
An electronic lock which features operational lights for open, low battery warning and incorrect entry functions.
Two backup keys for bypassing the electronic lock in case of an emergency.
The gun safe weighs 247 pounds and can be moved easily with the help of a dolly.
THE FEATURES
The safe is convertible so more firearms or valuables can be stored according to the requirement.
It is perfectly priced and is the best model in this price range. Most of the positive customer reviews for this product are related to the quality of this safe at such low prices.
Fantastic locking mechanism and front door. It is resistible to tampering an pry bars and would provide protection for a long time in case of burglary attempts.
The safe is solidly built and has a sturdy body even at such low price.
If you keep fireproofing features aside, then this safe is best price 22 gun safe available in the market. Fireproof safes cost way more than this one. And as I already said, if you have extra money to spare, you can go for costlier fireproof safes. It all depends upon your needs and concern for safety.
Here are a couple of customer reviews to help you understand this Stack on 22 gun safe better:
This is great. Super easy to program
This is great. Super easy to program. I would buy another one if I ever needed one .Best thing I ever got from amazon.
It came a week early and I absolutely love it. No damage and works perfectly. I just received my safe. It came a week early and I absolutely love it. No damage and works perfectly. The electronics work perfect so far. I would highly recommend this safe to anyone.
You can also take a look at more images of this Stack On Gun safe.
This Stack on 22 gun safe is also the best gun safe for the money 2017 with such features and price. You shouldn't think twice before buying this safe for protecting your valuables.
Take a look at the price of this gun safe and you will understand why it is the best bang for your buck.
If you need to save some time in searching more gun safes you can also write to us through our gun safe advisor form. We will send in FREE suggestion to you within 48 hours.