A magazine speed loader will cut your efforts to half while filling up your magazines. A speed loader removes the need to keep your thumb stuck in to the magazine while loading bullets in it.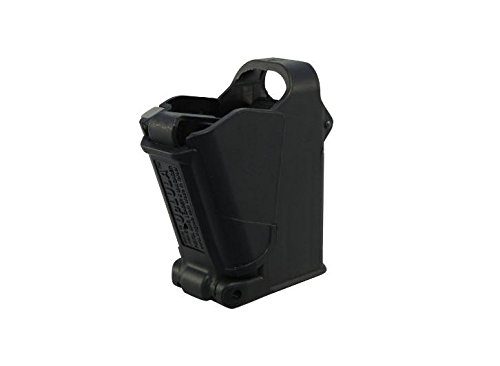 This way you can fill up your magazines quickly and safely. Thus eliminating the chance of any injury.
On an average, magazine speed loaders are thrice as quick as loading your magazines conventionally. To sum it up, a magazine speed loader takes around one second to fill a round in the magazine. Whereas, loading without it takes around 3 seconds to fill a round.
Here we will review the best speed magazine loader in the market. The Uplula magazine speed loader 9mm to 45 ACP. Let us check all the perspectives one by one.
Compatibility
The Uplula magazine speed loader is compatible with almost all types of pistol magazines.
No adjustments whatsoever are required to fill up different calibers of rounds in to magazines. The speed loader is compatible with:
9mm caliber magazines.
10mm caliber magazines.
.357 caliber magazines.
.40 caliber mags.
.45 ACP magazines.
1911 magazines.
Single Stock magazines.
Double Stock magazines.
Practically, the Uplula magazine loader can be used to load rounds in to all types of pistol magazines.
The mag loader is fairly light weight and weighs only 66 grams. So, it won't add up on your baggage weight. The retractable clutch of the loader is easy to use and makes filling up rounds a breeze.
The loader is available in different colors(everybody has their own choices).
People who want green, blue, red or even pink variants can buy them.
If you are a regular user of firearms, and need to fill up your magazines every now and then, you should consider buying this technical masterpiece.
Made up from high grade material, the loader won't break or malfunction. This is by far the most loved magazine speed loader in the market.
Here are a couple of customer reviews to prove the point:
So simple to use, durable material, and works with multi-calibers. The only trouble is the increase in the amount of ammunition you end up sending down range. Excellent addition to anyone's range bag. That being said it also makes a great gift for anyone who is into shooting
Maybe the best thing invented since sliced bread. No more sore fingertips after range days.