A large gun safe can accommodate anywhere from 16 to 40 firearms at a time.
That is the general standard requirement for any firearms owner looking for large gun safes. If you are looking for even bigger safes, you should use our gun safe advisor form so we may send you a quick suggestion.
This will save you a lot of time.
Starting with the review, this article compiles some of the best large gun safes for the money. These safes are tested and have been reviewed by experts.
Moreover, the gun safes mentioned in here are popular in the market and have a lot of positive customer feedback. This review comprises mostly of Steelwater gun safes in medium and large sizes.
So let's start off with the list.
Steelwater Standard Duty 16 Gun Fireproof Safe
When it comes to large gun safes, Steelwater stands among one of the best gun safe suppliers.
The safes manufactured by Steelwater are tried and tested and meet the highest standards of the industry.
This gun safe can store a maximum of 16 long guns at a time. Provided all shelves from the safe have been removed. Other than that, the safe can store 8-10 long guns on average with ammo and other valuables.
The safe has a EMP-Proof Electronic Lock with a keypad and a high security double sided bypass key so you never get locked out.
The best feature of this safe is its fireproof capability. It can withstand temperatures of up to 1500 F. Which means your valuables would stay safe even in case of a fire.
The door of this gun safe is removable to make moving easier.
You can get this gun safe under $700 and with free shipping which is amazing because large gun safes with such features would cost you no less than $1500+ along with shipping.
View some real customer testimonials of this 16 gun safe.
You can also choose the advanced heavy duty version of this Steelwater 16 long gun safe which is just a hundred bucks extra but offers some added safety features.
Steelwater Heavy Duty 20 Gun Large Safe
Moving a step further, here comes the Steelwater 20 Gun fireproof safe.
The average storage capacity of this safe is 12 – 16 long guns at a time along with other valuables and ammo. The maximum storage capacity of the safe is 20 guns at a time, after removing all the shelves and arranging the guns side by side.
The safe weighs 425 pounds and can be easily moved with the help of a dolly.
The safe also features an EMP-Proof digital security lock with a keypad for fast access. A double sided emergency bypass key is also included with the package in case you forget the code.
The door of this Steelwater gun safe features a gear drive system which makes it even more resistant to pry and punch attacks. Additionally, the large drill plate makes it more secure.
The safe is fireproof up to a maximum temperature of 1550 degrees Fahrenheit.
This gun safe would cost you somewhat a little less than $900 which is amazing. You won't find a 20 gun fireproof gun safe of such high quality in the market at such an amazing price.
Oh, and don't forget the FREE Shipping as well.
The safe has a lot of positive reviews and feedback from its existing customers.
BUY NOW ON AMAZON WITH FREE SHIPPING
Steelwater Heavy Duty 22 Long Gun Safe
Before we start viewing the features of this safe, let me tell you one thing.
This safe has no negative feedback on it. It has only received 5 star reviews from customers. This should assure you about the quality of this amazing gun safe.
Featuring a pre-coded dial combination lock, this gun safe is one of the most sturdy and secure 22 gun safe available in the market. The combination lock is UL listed LaGard Group II combination dial which is drill resistant.
It has 18.5 inches solid steel locking bolts on the sides to bolt it down to the wall, and extra steel reinforced bolt down holes to provide added protection to your safe by bolting it to the floor.
The safe features full one hour of fire protection for temperatures up to 1875 F which is the best in its class of 22 gun safes.
The average storage capacity of this safe is 14-18 long guns with valuables and ammo. Which can be increased to 22 after removing all the shelves.
There are several other cheap safes in the large gun safe category which are lower in price than this one. But believe me, they are actually very CHEAP.
This is the best large gun safe for the money in its class. You can buy it at a price slightly below $1200 along with free shipping.
View more images and customer testimonials of this 22 Gun Steelwater Safe.
BUY ON AMAZON WITH FREE SHIPPING
Steelwater 39 Rifles Large Gun Safe – Best Large Gun Safe for the Money.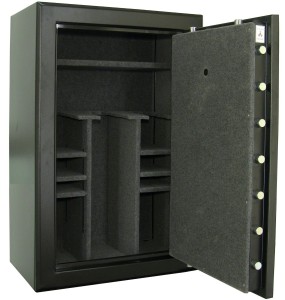 Another large gun safe from the inventory of Steelwater. 39 Guns is a huge arsenal and if you need such a large gun safe, you might be a firearm seller or a firearm specialist.
This gun safe has features exactly the same is its counterparts mentioned above. The safe is just bigger in size and provides some added protection because it has the responsibility of protecting more items.
The package includes a UL Listed Outlet with 3(110V) AC plugs and 2 USB ports so you can add accessories such as gun safe dehumidifiers and LED lights to your safe.
It provides full one hour protection against fire for temperatures up to 1875 F. Which ensures that you have enough time to call help or take adequate measures in case of a firebreak.
The door features a gear drive system which make the safe highly resistant to pry and punch attacks. Thus minimizing the chances of a successful burglary.
It is no doubt the best large gun safe for the money in its class.
View more features and images of the Steelwater 39 Gun Safe.
Steelwater 45 Rifles Large Gun Safe
The largest safe you will find in this article. This safe can store a maximum of 45 rifles at a time.
However, the average store capacity of this safe is 36-39 long rifles at a time along with other valuables and ammo.
The safe features a 8x larger drill/ballistic resistant plate to protect the lock, gear drive and other vulnerable areas of the safe from any forced entry attempts.
The safe also comes with a rechargeable dehumidifier dry pack so you can check the moisture levels for storage.
Apart from all these features, this safe also provides one hour protection again fire up to 1875 F.
An extreme version of this 45 gun safe is also available which provides 2 hours of fire protection for the same temperature. If your storage area is prone to any types of fire related threats, you should consider buying the extreme version.
View more images and customer feedback of this large 45 Gun Safe.
Steelwater gun safe problems
Steelwater gun safes are considered to be one of the best in the gun storage industry. These safes are known for their large capacity and extremely rugged construction.
As far as problems are concerned, steelwater safes are quite bulky and take significant amounts of effort to relocate. It is best to hire a local moving company to shift these safes inside your house.
There are no 'truly waterproof' models available for these safes. Although, they can sustain water from from a firehose or overhead sprinkler, so your items are safe in case of a fire.
Also remember that there are no models which allow the door to be hinged on the left. So there are no models that have a left swinging door.
Almost every model is supplied with a backup key, and you must make sure to not lose it. Always store the emergency keys at a reachable and secure location. That's because if you lose those keys, your only option will be calling a locksmith. And believe me, that's not gonna be easy after that. These safes are exceptionally well built.
Also remember that do not remove both the batteries at once when changing the batteries. Since it will cause the electronic lock to reset. Creating further hassle. So replace them one by one so the lock doesn't loose power.Plus, steelwater only offers a three-month warranty for their electronic locks.
Another small concern some users pointed out was that steelwater safes are not always true to their capacity. Maybe it was because they weren't stacking the objects right.
The customer support department of Steelwater Gun Safes is very prompt. You can call the steelwater gun safe customer care number anytime at +1-866-278-8022
If you are still not sure about which gun safe to buy, you can use our gun safe advisor form. We'll send out a nice suggestion to you within 24 hours.
To know more about Steelwater safes you can ready these detailed steelwater gun safe reviews article.