Stack On 14 Gun Safe
Take a look at the Stack on 14 gun safe and its detailed review article which would help you understand why you should buy it immediately after reading this article.
Stack-on has been a great player in the gun safe manufacturing arena for many years.
Moreover, stack-on gun safes are the most economical ones available in the market. Economical than almost every other brand in the market.
If you are looking for a 14 gun safe, chances are that you have around 6-10 firearms, you need to store.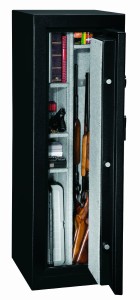 Well in that case, you have landed at the right place.
Oh, and yes I also want to tell you something. The gun safe we are reviewing in this article is a Stack on 14 Gun Safe. IT IS NOT A GUN CABINET.
The reason I told you this, is because when you will view this item in the amazon store, you will find an exactly similar and cheaper item. But mind it, that is a gun cabinet.
There is a difference in a gun safe and a gun cabinet. A gun cabinet is only a shelf for storage, similar to a drawer or a closet. It doesn't provide protection.
On the other hand, a gun safe is equipped with heavier doors, better locking mechanisms and other safety features. It only purpose is to guard your valuables to the most extreme of situations.
So now as we clarified the difference between a gun safe and a gun cabinet, let's get back to this Stack on 14 gun safe.
The model number Stack-On FS-14-MB-E is a 14 gun fire resistant safe with electronic lock.
Remember, that finding a good gun safe(especially a 'fireproof' gun safe) at such low price is very difficult.
The 14 gun safe can accommodate 14 firearms at its maximum capacity. That is when all the 4 adjustable shelves in it are removed.
The safe can store rifles with maximum 54 inches in length. That's means it will hold even an AR15 without an issue.
For safety, this 14 gun safe is equipped with a digital keypad electronic lock. It grants easy and quick access within the gun safe at the blink of an eye.
And, if you are more concerned about backup, Stack on is polite enough to provide a backup key for bypassing the lock in an emergency(Some nasty companies might charge for that!!).
Coming to the interior, you won't have to worry about scratches to your valuables. The interior is fully carpeted. Apart from that, the look of the safe is too lavish.
A guest won't resist from complementing you for this beautiful 14 gun safe upon seeing it.
The safe is powered by a standard 9V battery. It powers the digital keypad lock. The lock doesn't consume a lot of battery power so you don't have to replace it at every second weekend.
Now lets take a look at the weight of the gun safe. This Stack on 14 gun safe weighs 300 pounds approx. Now that's a bit heavy. However, the safe can be moved easily with the help of a dolly.
If you are planning to keep the safe upstairs, it would require around two to three people to get it there(depending upon the strength of people, I'm not Hulk).
Now, as we have taken a look at the technical details of the product, let me help you save some price on the safe.
Generally if you order this safe from a local store, you would find a higher price tag.
Plus, the delivery of such a heavy item would cost you anywhere between $150-$300(Ouch, that hurt's the wallet).
You can buy this safe from the green button mentioned at the end of this article, and you can avail free shipping on this product.
That's saving around a couple of hundred dollars straight.
Based upon the customer reviews, this Stack on 14 gun safe is the best in its category.
Check out this safe and buy it without thinking twice.