A gun rack is an effective way to store and showcase your guns. It not only provides a stand for your guns, but also adds to the beauty and class of your place.
Gun racks do not provide any protection to your guns like a gun safe or vault. But, it does arrange them beautifully and conveniently.
With a plethora of options available in the market, there is a gun rack which has taken the market by storm. And, it is obvious that you go crazy about it once you take a look at it.
Winchester RASW003 Run Around Susan Gun Rack
Winchester is famous in the firearms industry for manufacturing masterpieces. In this procession, the company has manufactured this amazing gun rack.
Made from a combination of plywood and steel this rotating gun rack pleases the eyes of everyone. The rack has a 12 gun rotating display which makes it perfect for displays and trade shows.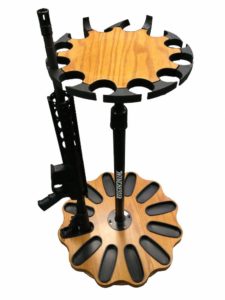 The carousel gun rack helps in displaying the firearms just like clothes in a supermarket. The sturdy base ensures that it doesn't tip off, even while holding heavy rifles.
If you are more creative, you can also place this rotating gun rack in a gun safe. Although, you need to take size of both in to consideration. But it's all about being creative. 🙂
The silicon rubber pads and locks ensure that your gun is placed firmly and doesn't fall off the rack hence causing damage.
The telescopic height adjustment allows you to adjust the height of this rotating rack according to your convenience.
This rack is exceptional for gun shows, hunting cabins, gun storage and displays. If you own a gun shop, you won't find a better item than this rack.
You can place 12 guns on this rotating rack at once. Perfect for both home and store usage, this amazing gun rack from Winchester is no doubt a must buy product for every gun owner.