[sg_popup id="1″][/sg_popup]
There are a lot of gun safes with fingerprint lock in the market. After all it is the best way of securing your belongings.
In technical terms, a fingerprint lock is known as a bio metric lock. It scans the fingerprint of a person or multiple people and provides access to only those who are authorized.
If you are looking for really cheap gun safes, then I would suggest you to stop reading this article right now, because I have listed the best and reliable safes available in the market in this article.
To be true, a gun safe is not an item where price needs to be a concern. Because a gun safe is responsible for securing your firearms, which if go in the wrong hands can cause a havoc.
For your convenience I have divided this article into two parts. One talks about small handgun safes and the other talks about big bio metric gun safes which can be used to store multiple firearms.
To help you take a quick decision, there are only three gun safes mentioned in every category.
Being a firearms enthusiast I have combed through hundreds of gun safes to find the best in the market.
BIO METRIC HANDGUN SAFES
GunVault SVB500 Speedvault Bio metric Pistol Safe
This bio metric handgun safe is the best seller in gun safes on Amazon.
It is a small and secure handgun safe which can be installed under your desk or drawer.
This gun safe has a fingerprint scanner which can recognize up to 120 different fingerprints, which means you can provide access to 119 more people other than you to your gun.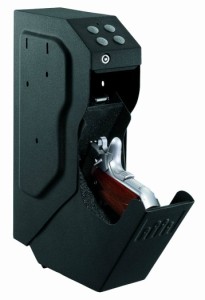 This safe has a quick release slot which opens like a cash drawer so accessing the pistol is easy.
It also contains a backup override key in case you need it.
The safe operates on a 9v battery and has audio and LED indicators for low battery warnings.
The Gun Box
An exceptional product with a load of extra features at a minimal price. The gun box is a highly secure and advanced gun safe with features like no other portable gun safe.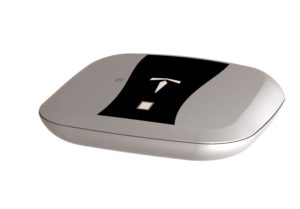 The gun box has a fingerprint scanner along with a RFID chip embedded in a wrist band. The gun box unlocks automatically when the RFID wrist band is waved before the lock.
It also consists of a GPS tracker for cases where the gun safe gets lost. Being a portable gun safe,  this feature is of great importance.
BUY NOW ON AMAZON AT A DISCOUNT
Gunvault GVB2000 Pistol Safe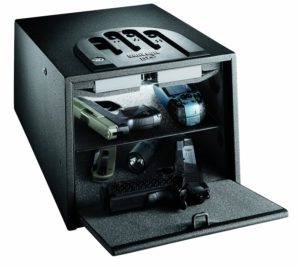 The GVB2000 is a spacious and highly secure pistol safe with a fingerprint lock. This safe can be mounted on a wall for better protection. The battery lasts for one year on an average.
Package also includes an adapter to supply AC power to the vault.
This vault has ample space to store two pistols along with some ammo and other small belongings.
Being a bestseller, you can rely upon this gun safe for the safety of your firearms.
View detailed specifications and images of the GunVault GVB 2000 gun safe.
BIOMETRIC RIFLE SAFES.
#1 Barska Large Biometric Rifle Safe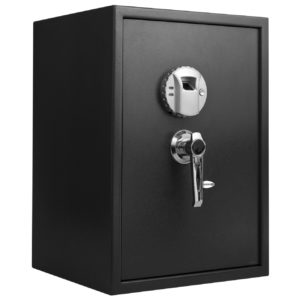 View More Details and Buy on Amazon
#2 Steel Water Heavy duty 20 long gun (45 min. fire protection)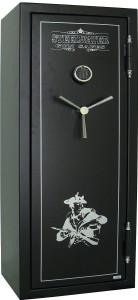 View More Details and Buy on Amazon
#3 Liberty LX35 Lincoln gun safe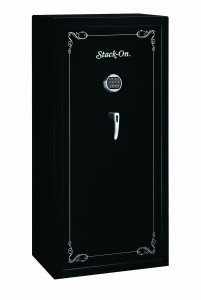 BUY NOW ON AMAZON AT 45% DISCOUNT
Hope you have a great experience choosing a gun safe for your firearms.
You can also use our FREE gun safe advisor for finding a gun safe.