Corner Gun Safe/Cabinet
A corner gun safe is a great space saver and stays hidden from the eyes of people, even in the most cramped rooms.
But before you think about buying a new corner gun safe, I must tell you that they do not exist.
Yes. You read that right. There are no corner gun safes available in the market, but there are corner cabinets available.
The basic difference between a cabinet and a safe is the ease to break into them. A cabinet is easier to break in than a safe which has heavy doors and locks.
Corner gun cabinets are often termed as corner gun safe to generalize the term. Companies do not manufacture heavy corner gun safes because of their design and shape which does not meet the purpose.
This does not mean that corner gun cabinets aren't effective. The only difference is that an if an expert burglar could pry open a safe in 10 minutes, he would pry open a cabinet in 5.
This is the reason you can buy a gun cabinet for a lower price where safes cost $2500 and more.
Though this doesn't defy the ability of gun cabinets in any way.
Corner gun cabinets are an excellent and intelligent way to store your firearms, especially in cramped places. They also provide a camouflage advantage so people do not notice them.
After conducting some extensive search on the internet for good corner gun safes for sale, I found out the best available corner gun safe in the market.
And to help you in buying this gun safe, I found it out on Amazon.com.
So, let us take a quick look at it's features and what existing customers have to say about it.
The Homak 10 gun corner Gun Cabinet
Pry resistant full length hinge(This would offer some extra safety from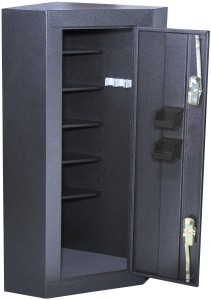 burglars).
4 point locking system.
15.77 cubic feet of storage.
Can be installed at any right angled corner easily.
Weighs 96 pounds.
Here are a couple of reviews from satisfied customer's:
Have had one of these for better than ten years and am looking to purchase another. Hides well behind a door. – Gray Mohr.
This is actually a great product and for the reviewers that state it is merely thin sheet metal or easy to break into with a frigging
crowbar….and?

It is a CABINET, not a $2500 SAFE. It is very roomy, offers a lot of options for organization, etc.

The reason I gave it 4 stars was that it only came with 2 keys and you need both AT THE SAME TIME to open the cabinet. So, if you lose
one, you are SOL or calling the company for a replacement. – Jose H. Mariscal.
You can buy the Homak 10 corner gun safe on the Amazon store.
Apart from that, if you need any further suggestions on gun safes, you can try our gun safe advisor form. We offer free suggestions to people who need help in finding a suitable gun safe according to their needs.