Your search for the best portable gun safes comes to a halt. This article will describe the best portable gun safe reviews for your to choose one of your choice.
A portable gun safe, should have the following qualities:
Lightweight.
Easy to conceal.
Easy to carry.
Hard to open.
Best Portable Gun Safe under $100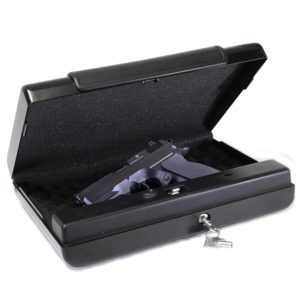 After some extensive research and comparisons, we have come up with the First Alert 5200 DF handgun/pistol safe to be the most desired and renowned portable gun safe in the market.
This gun safe at a price tag of less than 100 dollars is the best in its category. Although there are several other portable gun safes you would find for as cheap as $20, but it would not be good to call them a safe.
This First Alert portable gun safe is the best bet for your money. The reason:
Weight: This portable pistol safe weighs only 4 pounds.
Material: Made up from 18 gauge steel with black powder-coat finish.
Safety: 3 to 8 digit "no see" programmable pass code.
Care: Foam padded interior to protect your firearms.
Capacity: It can accommodate one big handgun like a 1911 .45 or two small handguns like .380 and .40.
You can view the customer reviews and images to see how well guns fit in this portable gun safe.
Here's what a customer has to say:
Gift for my dad and he LOVED it. Perfect size for the RV or traveling!!
Best Portable Gun Safe Reviews – under $200
As you increase the price, you increase the quality. The next best gun safe in the below 200 dollar range is the Sentry Safe Bio-metric Quick access pistol safe.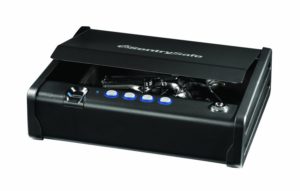 This handgun safe is one of the most loved gun safes in the market and on the Amazon store. A sturdy and easy to carry safe which will protect your firearms from damage as well as theft.
Weight: 12 pounds.
Material: Made up of 12 gauge solid steel, this portable pistol safe is hard to break in.
Safety: Bio-metric as well as electronic keypad lock to keep your contents secure. The safe also has an override key to use in case of an emergency. The single handed access feature of the gun safe makes it best for use in emergency situations. The safe is also pry proof.
Care: The interior of the safe is foam padded so your handguns are safe and don't rattle while you move the safe around.
Capacity: The safe can accommodate one small handgun along with a couple of magazines and ammo. The rest depends upon your creativity.
This gun safe is easy to use and gives an instant response. The finger print reader, can read your finger prints and open the safe within one second, without making any noise.
This safe can either be carried in transit, or when not to be used as a portable safe, this can be bolted down to any place.
You can view the customer reviews and their images of this sentry safe on Amazon.
The customer reviews and the features of this safe have earned this product a place in this portable gun safe review.
Here's what a customer has to say:
Perfect Safe Better Price

Great safe, holds two compacts and two magazines no problem. Biometric fingerprint has worked every time for me since I bought this safe 6 months ago. Highly recommended
Gun Vault SV500 Quick Access Bio-metric Gun Safe.
The most loved product in the history of online gun safes. This amazing handgun safe has taken the market by storm.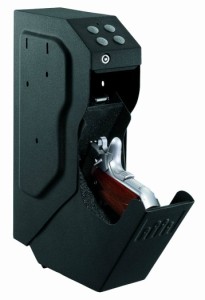 It's stylish, durable and compact to provide you with the best experience. The safe is easy to conceal and quick to open. The main feature of this product is its quick access capability and the bio-metric lock which provides added protection.
Trusted by more than 1500 positive customer reviews on Amazon, the safe is a must buy product for handgun owners. It is also among the most popular bedside gun safes on the market today.
Weight: 8.2 pounds. Easy to carry and conceal.
Material: Made up from 18 gauge steel, the casing is strong enough.
Safety: A quick access bio-metric lock. Reads your fingerprint within one second.
Care: Internally padded with foam so your handgun is safe and does not rattle.
Capacity: Can accommodate one handgun. The safe has an inbuilt LED light which glows when you open the safe. This is helpful in low light conditions.
This gun safe can be mounted in different positions and can be concealed easily.
Here's what a customer has to say:
This is the only safe I use now for quick access handguns, fits everything I have from pocket to full size 1911
These were the 3 best portable gun safe reviews to help you out with buying the best gun safe for your needs.
If you need further help, you can use our gun safe advisor form. We'll send you the best suggestions according to your needs.