[sg_popup id="1″ event="onload"][/sg_popup]With the debate on criminal and firearm laws getting hotter day by day, gun safes have become important than ever for firearm owners. In this regards, this article will tell you about some of the best corner gun safes in the market.
Today you'll take a look at the 3 best corner gun safes in the market. Two of these are among the best selling gun safes whereas the third one is originally and technically a gun safe.
Yes, you read that right. TECHNICALLY.
The technical aspect of a corner gun safe is that it can be placed at the corner of a room. At the point where two walls meet.
Corner gun safes are meant to be concealed in the corner so people don't notice it. Whether they are burglars or curious relatives. It keeps the gun safe hidden and also saves some space.
However, the logical aspect of these safes is that it should be hidden enough not to grab attention and should save some space. In this regard, here are the three best corner gun safes, two out of which are best sellers.
Barska Quick Access Biometric Rifle Safe AX11652
This gun safe is the most popular and best selling rifle gun safe ever on the amazon online store. With a small yet optimum capacity, this safe has won the hearts of a lot of gun owners.

Small, convenient and sturdy, along with a bio-metric lock, this safe fits the demands of all types of users.
The safe can easily hold up to 4 rifles plus some ammo which is quite a decent number for general users. The bio-metric lock keeps unauthorized hands off your guns.
You can program up to 120 fingerprints in the safe. It measures just 9.8 x 8.7 inches at its base, thus consuming the least possible space for a rifle safe.
The safe operates on a AA batteries, however, the face plate of the lock can be removed to access an emergency conventional lock in case of emergencies.
You can view the customer reviews for this safe on amazon to get an idea of its quality and craze.
Stack-On SS-16-MB-C 16-Gun Security Safe with Combination Lock
With a base of 21 x 20 inches, this gun safe can also be used at the corners. The reason this gun safe is included in this list is because of its storage capacity and less space occupancy.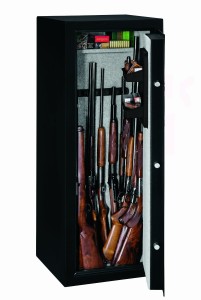 The gun safe features a combination lock and can hold 16 full size rifles at a time, along with some ammo and valuables. A complete package for people who want extensive protection for their firearms and valuables at an economical price.
The corner gun safe uses a simple combination lock which has been tested for quality. The safe is hard to be pried open and can withstand forced entry for quite some time.
The safe can be drilled to the wall or the floor for added protection. It is rather a nice find at this price and quality.
Homak HS30136010 Security Corner Steel 10-Gun, Black Corner Gun Safe.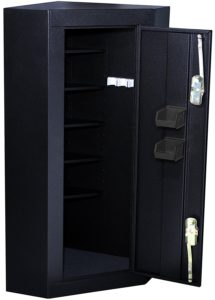 This Homak safe is the one which actually looks like a corner gun safe. You can notice the sides directed at an angle from the safe like a triangle.
However, the design of this safe may not please users who want a more flat rear surface to place it against walls.
This safe can be kept in any corner and has a humongous space to carry multiple firearms and accessories.
The safe features a simple lock with 100 key combinations so the risk of forced entry can be eliminated.
The safe weighs just 100 pounds and is made up from 1.5mm cold steel. A nice and durable corner gun safe which would store some rifles and valuables for you.
You can also user our gun safe advisor form to get some help in choosing a gun safe for you.