Gun Safes with fingerprint scanner Lock
With technology becoming more versatile, Gun safes with fingerprint scanner lock have become easy to be found in the market.
Although, choosing the right gun safe is still a hectic task. To help you save some time and money with this issue, this article comes up with the best choices which you can choose.
A gun safe with a fingerprint scanner can only be accessed by feeding in the fingerprint it stores. There are gun safes available in the market which can store anywhere from 10 to 200 different fingerprints.
The reason bio-metric gun safes can store multiple fingerprints is to allow access to multiple people at a time.
Apart from the fingerprint lock, the bio-metric safes also have an emergency master key which can be used to open the safe in case of an emergency or malfunction.
Finding the best gun safes with fingerprint lock will surely consume a lot of your time.
If you are in a hurry, the gun safe company would suggest you to fill out our gun safe advisor form. Once you fill it, we will come up with a set of the most relevant choices based upon your need.Now, before buying a bio-metric gun safe, you should be aware that the finding a gun safe with fingerprint scanner is not the only concern.
The safe should be durable enough to withstand burglary attempts.
Whether you want the safe to be fireproof/waterproof?
How many guns you plan to store in the gun safe.
How do you plan to install the gun safe(within a wall, or in basement or in open space).
Here we have mentioned one big bio-metric rifle safe and a couple of small bio-metric handgun safes. These are the best in quality and price in their categories.If your needs fall beyond these mentioned gun safe, please fill out our advisor form to get personalized suggestions.
Gun Vault SV 500 Speed Vault
The best selling small gun safe available in the market. This gun safe with fingerprint scanner has taken the market by storm.
Easy to install and store, the gun safe allows quick access to the fire arm.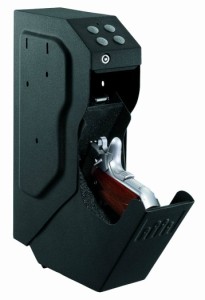 This small and secure gun safe weighs only eight pounds and is operated by a one 9 volt battery. The gun safe is fitted with foam on the inside to protect your valuable firearm from scratches or rattling.
An override security key ensures you will never get stuck in situations when the safe doesn't grant access.
This gun safe with fingerprint scanner is best to be used under desks and at cash counters. This is one of the best budget gun safe in the market.
View more images and features of SV 500 Gun Vault Quick Access Safe .
Sentry Safe quick access gun safe
Rated as the bestseller in the gun safes section on amazon, this sentry safe has a pry-resistant top lid. This means that you don't need to be scared about burglars opening the safe through a pry bar.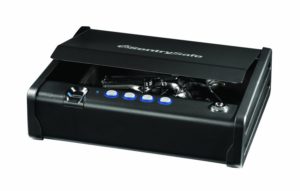 The safe has an embedded gas strut on the interior to facilitate a quick and quiet access. It comes in bio-metric lock, mechanical lock and portable model variations.
It can be bolted down horizontally onto a shelf or the floor. The safe is among the best sellers in the market and more with more than a thousand positive reviews.
Here is what a buyer has to say:"You can open it with EITHER the biometric scan or the code or the key. It doesn't require more than one method to enter it. I have a glock 27 and I can keep it, 2 extra magazines, a lock, and a box of ammo in it comfortably. This is an awesome safe! I strongly recommend for your bedside weapon or your EDC for safe keeping"
View more images and features of Sentry Safe Quick Access Gun Safe.
Barska Biometric Rifle Safe
The most common and frequently bought bio-metric rifle safe in the market.
The Barska Quick Access Bio-metric Rifle Safe can hold up to three rifles along with a handgun and some ammo in it.
The bio-metric technology in the gun safe can save up to 120 different identities and includes two back up keys for emergency access.

It can be studded either into the wall or the floor and is powered by 4 AA batteries which can last for up to two years.
Barska offers a one year warranty on this product, more details on which can be obtained in their catalog.
With a plethora of gun safes with fingerprint scanner lock out there in the market, we chose the best for you. These safes are relevant for people most of the time.
View more images and features of the Barska Quick Access Bio-metric Rifle Safe.
If you require some other options which suit your needs, you can use our Gun Safe Advisor form and we'll send out a free suggestion to you.
You can also find the top rated gun safes in the market on our website if you plan to dig deeper into the market.