Shooting can become annoying if you have to struggle with your prescription glasses over the range. Nobody likes to compromise with safety at the shooting range. For people with eye problems like myopia and hypermetropia, prescription shooting glasses have proven to be a boon.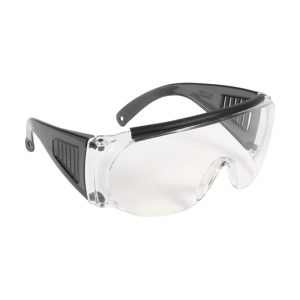 Here we will do a review of Allen over shooting and safety sunglasses for use with prescription glasses.
These Allen safety glasses are ANSI Z87 impact resistant and have metallic coating on their lenses which provides 100% UV protection.
The glass has clear lenses which can be used at the shooting range or for everyday use. Like riding cars, working with industrial tools or any other chores.
These safety glasses have a large size which makes them easily fit over all types of spectacles. The rubber guard on the top portion of these safety glasses ensures that you are comfortable while using these glasses.
These safety glasses work well with all types of earmuffs without any problem.
Here's what a customer has to say:
Durable and Comfortable

I wore these to the range last weekend. They survived being in my purse with my other range stuff, and they were comfy to wear while shooting. They seem well made and durable.