Gun Concealment is a quirky, yet intelligent idea of storing guns at your place. Gun Concealment furniture available in the market can help you out with this.
How funny it would be if the guests visiting your home found themselves sitting on a bench which actually contains your guns and ammo.
Moreover, in case of a burglary at your place, the burglars would never find your firearms and take them away. That's a big plus.
Apart from all these benefits, concealment furniture also provides you with storage options for your firearms. So, overall it is a complete win-win situation for you.
Here in this article, we'll check out some nice gun concealment furniture items available in the market.
So let's begin.
American Furniture Classics 502 Gun Concealment Storage Bench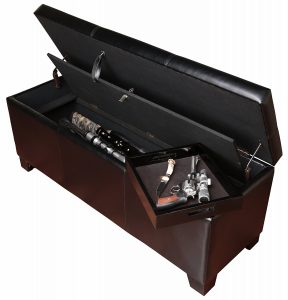 This amazing bench features a locking storage compartment for your guns, covered with a stitched, brown poly-urethane cushion covering upon which people can sit.
The locking compartment can hold 5 long guns at a time, which is impressive for concealment furniture.
On top of that, the upper storage compartment(without lock) has ample storage space to keep blankets or other items of your choice.
The soft fabric lined interior of this concealment bench ensures that your belonging are protected from tampering or any other damage.
It would have been even more better if this bench could be modified to use as a table.
View more images of this gun concealment bench.
American Furniture Classics 611, 10 Gun Slider Cabinet
Concealment is creative, and so is this curio slider gun cabinet from AFC. The cabinet can hold up to 5 guns at a time.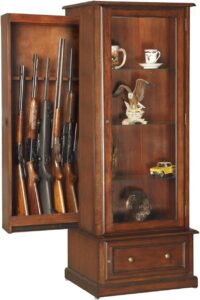 The maximum length of guns it can hold is 5 feet. The sliding gun storage has been concealed behind the curio display area so nobody suspects it.
The slider is protected with a lock which can be accessed after opening the curio door lock.
The front of the cabinet features a tempered glass and adjustable shelves so it fits the purpose of decorative furniture as well.
A perfect example of Gun Concealment Furniture.
View more images of this cabinet.
Peace Keeper Tall Rectangular Diversion Clock
Something straight out of the James Bond Movies. This diversion clock will not only conceal your handgun but will also tell you the time.
A large secret stash compartment hidden behind the face of the clock uses a hinge and magnetic clasp enclosure to open and close with ease.
The hidden storage space is great for hiding small valuables like keys, cash, jewelry etc. The watch requires only 1 AA battery to function.

Diversion safes provide a very high level of security for your valuables in case of burglary attempts.
The rectangular wall clock can be used to conceal a handgun as well so it gives you a better chance of defense if your house is attacked by burglars or robbers.
View more images of this Wall Clock Diversion Gun Safe.